Jayden Mixon: After Gunshot, CCAA 'Offered Me a Second Chance at Life'
October 10, 2023 | Jeffrey Good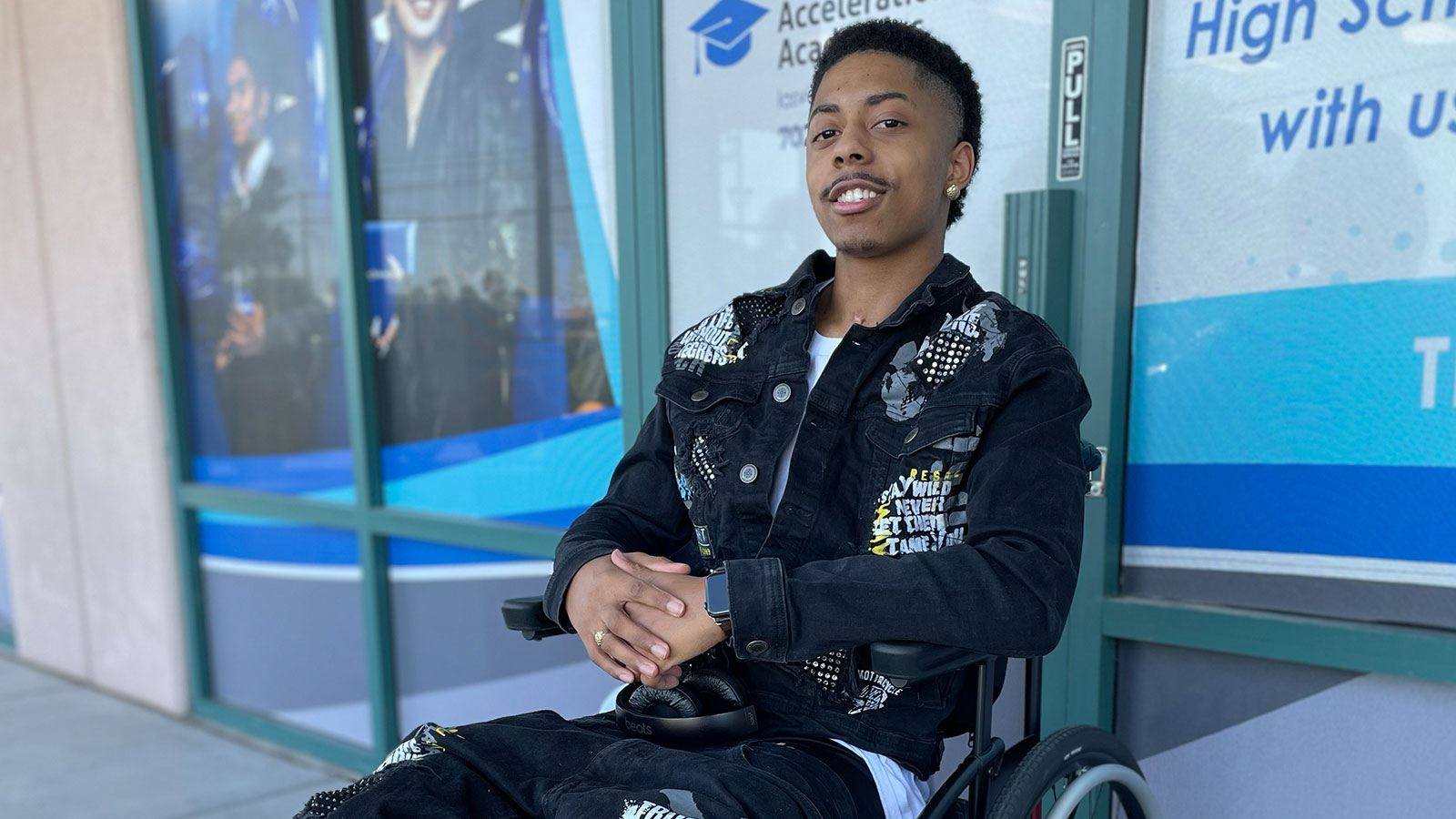 When Jayden Mixon came to Clark County Acceleration Academies during his senior year, he thought he had pushed through some serious challenges: schools closing due to Covid, a distracting social life, finding a school where he could get serious about his studies.
Then came the gunshot.
On Aug. 11, 2022, Jayden was heading home from school when a drunken man pulled up beside his friend and threatened him with a gun. Jayden intervened, trying to calm the angry man. He pleaded, "You're better than this."
The next thing Jayden knew, he was emerging from a coma in the hospital, his body laced with tubes and a .45 caliber bullet lodged in his skull.
"At that point, I didn't know who I was," Jayden recalls. "It felt like a thousand knives stabbing and burning."
Jayden Mixon is learning to stand again.
Before the violence that day, Jayden had made a commitment to turn around his high school career — and his life. After moving from California to Las Vegas, he found himself falling under the spell of the city's bright lights and fast crowds. While he had always been a serious student, he allowed himself to drift off course.
"I was slacking on my education," he acknowledges. He realized, "I have to take accountability for myself. I'm putting fun over doing something with my life."
He found out about Clark County Acceleration Academies (CCAA), which works in partnership with Supt. Dr. Jesus Jara and the public school district to offer young learners a personalized path to graduation. Jayden loved the comfortable, cafe-style atmosphere, the one-on-one coaching and — most of all — being among graduation candidates shared his renewed sense of purpose.
"I was like, 'Here I can get something done,' " says Jayden, who had dreams of earning his diploma and joining the U.S. Air Force.
When his motivation flagged, he knew that CCAA educators — especially graduation candidate advocate Kiaira Taylor — would be there to urge him back on course. "They tell you, 'This is on you. How badly do you want it?' "
"That I respected," he says. "With that amount of freedom, it gave me the power to decide what I wanted. Did I want to be a graduate or a flunkie?"
To Jayden, the answer was clear: Graduate. "I stayed at it. I was very disciplined."
The shooting threatened to derail all that. In the hospital, Jayden's condition was touch and go. He "coded" and had to be revived, lost many of his motor functions — including the ability to walk — and was confined to a bed for long months. "I can't count the number of times I almost gave up."
But even during those low moments, he could look up and see his little sister, his stepmother and his father, his rock, at his side. "Big shout-out to my Pop." And he would hear regularly from Ms. Kiaira, telling him the team at CCAA was eager to welcome him back when he was ready.
One morning this fall, a van pulled up to the North Campus and dropped Jayden off for his first day back. Taylor and other educators welcomed him with hugs and warm words. In the words of CCAA Director Wendy Thompson, "It's nothing short of a miracle."
Jayden, now 20, has a year's worth of classes to finish. It's a long road, but he knows he's got plenty of support. And just as he is dedicating himself to the physical therapy he needs to get back his mobility, he is re-dedicating himself to his studies. While his injury has put the Air Force out of reach, he'd like to go to college and build a career in real estate.
"I refuse to be a victim. I refuse," he says, laboring to push himself to his feet, however briefly, from his wheelchair. "I'm a survivor, a fighter."
Jayden couldn't be more grateful that Taylor, Thompson and other educators at CCAA are fighting for him, too.
"This school offered me a second chance at life."
Clark County Acceleration Academies accepts new students on a rolling basis. For more information, check out the academy web page and fill out an online enrollment form.