Peyton Campbell: With Hard Work and Help from WAA, his Forecast Calls for Blue Skies Ahead
March 23, 2023 | Jeffrey Good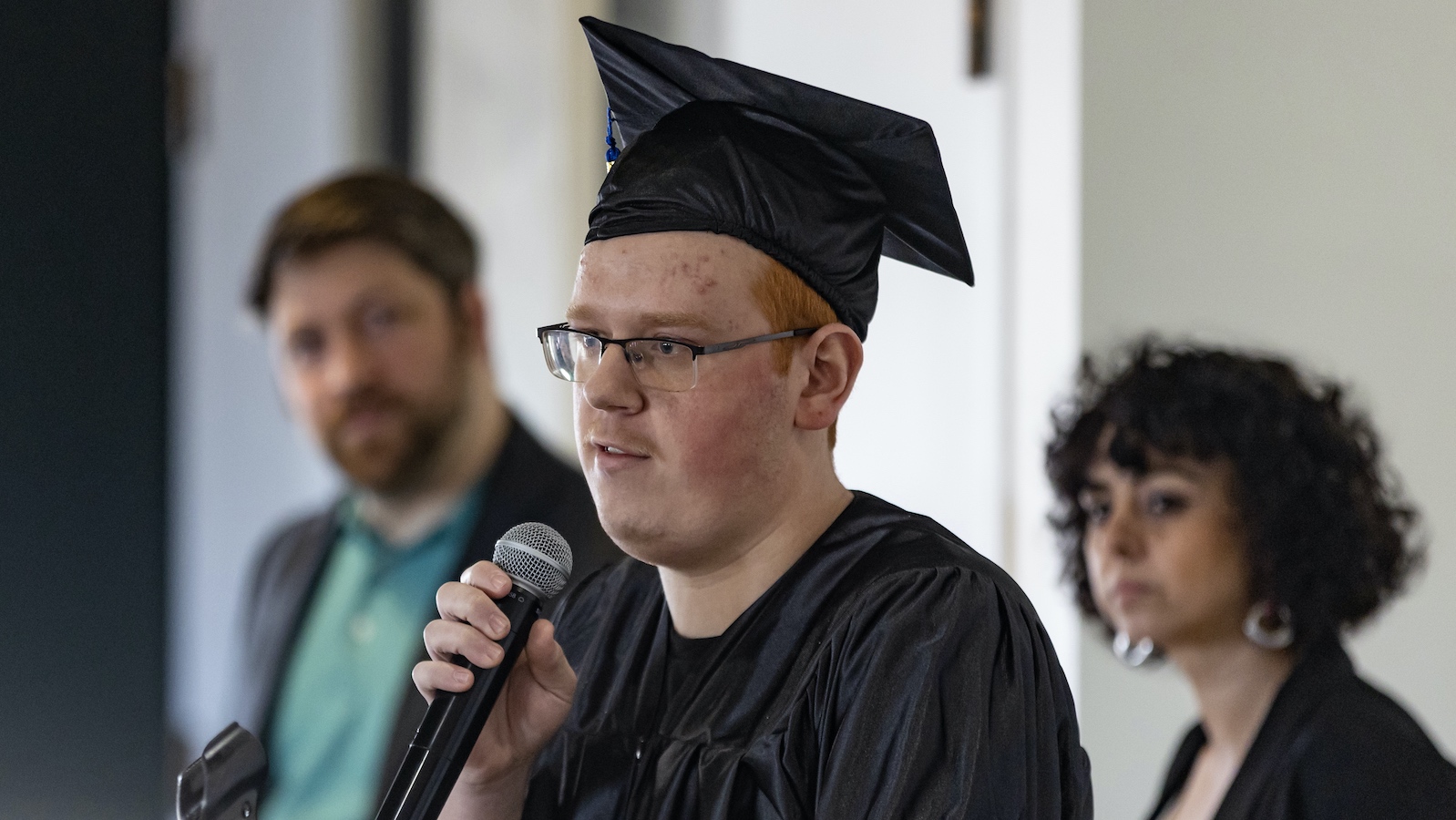 To see Peyton Campbell glide around the room at Wichita Acceleration Academies, you'd never guess that he's a young man who's seen more than his share of struggle.
Sporting a Carhartt work shirt, well-worn leather boots and an impish grin, the (just turned) 18-year-old greets his elders as "whippersnappers," waxes enthusiastic about his plans to sell roller-equipped boots to the entrepreneurs on Shark Tank, and geeks out about tornadoes when discussing his plans to become a TV meteorologist.
Barely six months earlier, Peyton's world seemed to be coming apart. After cycling through the Kansas foster care system for a decade, he was pulled yet again from his parents' home, had to move in with family friends in another city and was unsure where he would spend his final year of high school.
After the upheaval in his home life, Peyton wasn't eager to plunge into a brand new school full of unfamiliar teachers and classmates. After doing an online search for non-traditional options, he decided to try WAA and its flexible, personalized approach to high school.
He felt right at home and began coming to the downtown Wichita campus when the doors opened each morning, then studying until they closed at night. After falling behind at his old school, he was able to power through his remaining classes and — the day before his 18th birthday — don his cap and gown and celebrate his diploma.
"I came in every single day, just kept knocking out classes," says Peyton. And he did it with help from the caring team of educators at WAA. He credits, among others, English coach Jarrett Schaef and social studies coach Kevin Farlow for helping him stay on task.
"If I'm just by myself, I get distracted, get off pace," he says. "Kevin and Jarrett would say, 'Come on, let's just get it done.' "
Peyton loved the quiet-but-friendly atmosphere, the cafe-style seating and the ability to focus on one class at a time. "I like the layout here, it's relaxed — whereas at a normal school, you sit at little desks, you only have so much space. You're looking at a projector eight hours a day, taking notes."
Even before he graduated, Peyton had his future mapped out. Fascinated with weather since he was a child growing up in the Midwest's Tornado Alley, he decided he wanted to become a TV meteorologist and approached KSN-TV to pitch himself as an intern.
While he hasn't been on camera yet, Peyton practices in front of the green screen whenever he can and works closely with the station's weather team to build forecasts and chase after the latest details on storms moving through. With college in the forecast, his future is looking sunny, indeed.
"Peyton knows exactly what he wants to do," says WAA Director Chris Turner. Graduation candidate advocate Veronica Headings adds, "He has that drive. I think we'll see him on the news one day."
Wichita Acceleration Academies accepts students on a rolling basis. For more information, check out the academy web page and fill out an online enrollment form.