SAA Graduation: 'We Are So Proud of Each of You'
October 19, 2023 | Jeffrey Good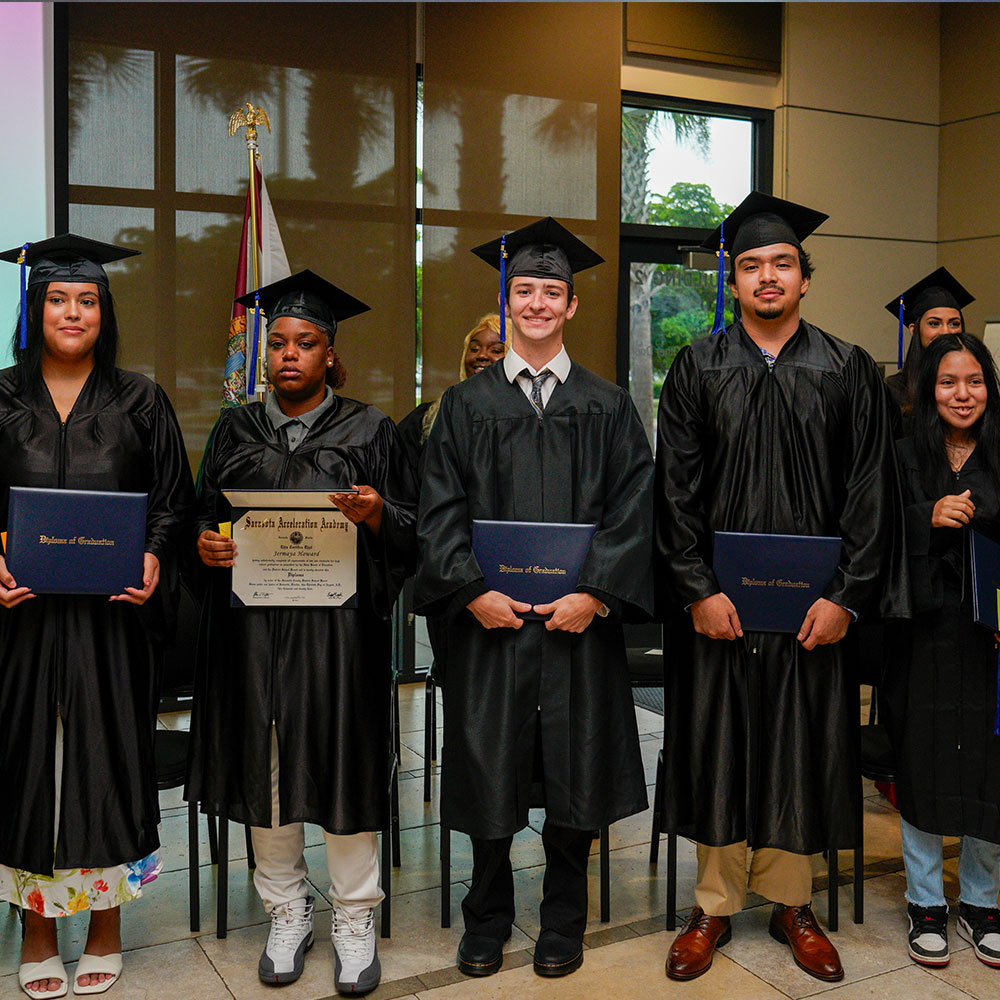 At a ceremony filled with pomp, circumstance and an extra serving of joy, Sarasota Acceleration Academies (SAA) celebrated its latest class of graduates.
The auditorium at Suncoast Technical College cracked with anticipation as graduation candidates donned caps and gowns and settled into seats surrounded by family members, friends and the SAA educators who had helped them realize their goal of a high school diploma.
The commencement celebrated 23 young people who worked so hard — and often pushed through so much adversity — to arrive at this day.
"We are so proud of each of you for achieving one accomplishment after another and having the courage to continue the journey, your way and at your pace," SAA Director Michelle Llinas told them.
Kyron Disney is one of the newly minted grads. Soft-spoken and diligent, Kyron could be found most days working quietly at a high top desk near the academy's front window, enjoying the sunlight pouring in and the steady progress he was making toward his dream of a diploma.
It wasn't so long ago that that goal seemed out of reach. Kyron had been a student at an arts magnet school, but found himself struggling to juggle multiple classes and get the one-on-one help he needed.
"The teachers weren't really too understanding," Kyron says. "They had really tight deadlines and didn't really give any second chances."
After falling behind on credits and missing the chance to graduate with his cohort, he began to lose hope. "When they told me I had to drop out, that really did it to me."
But then he learned about Sarasota Acceleration Academies, where he could take one course at a time, demonstrating mastery before moving on to the next — and where he could get the personalized support he needed.
Kyron says SAA Director Llinas and graduation candidate advocate Frank Cruz were instrumental in helping him to re-engage with his studies and cross the finish line to his diploma.
"Frank has been especially helpful," says Kyron. "I'm not really good at accepting help, but it's nice that he tries — that he cares."
Kyron's family has been through some rough times. His mother passed away and he had to move with his father and siblings in with his grandparents to save money. With diploma in hand, he's hoping to build a good career and help his family when he can.
He couldn't have done it without the educators at SAA. "It's different," Kyron says of the school. "Everyone is so nice and understanding."
Sarasota Acceleration Academies accepts new students on a rolling basis. For more information, check out the academy web page and fill out an online enrollment form.
Below are photos from the ceremony by photojournalist Martha Asencio Rhine.